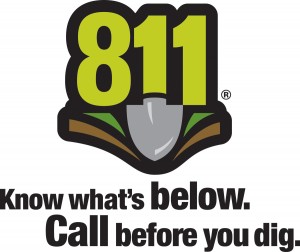 Please Follow The Links Below To Learn More About Underground
Public Utilities And Who To Call To Have Them Located Prior To Digging!
This Free Locating Service Will Only Mark Public Utilities.     It Is A State Requirement That They Be Notified Prior To Any Excavation Work In Your Yard or Business.
NC 811 Excavation Guide  Click to Download
NC 811 Homeowners Excavation Guide  Click To Download
www.NC811.org     Visit NC811's Website To Learn About Locating Public Utilities 
In-House Underground Utility Locating Services.  
We have the capability In-House to locate any private underground utilities.   Those being, Power, Gas, Fiber, Telephone & Cable TV.   Water and Sewer lines can also be located if they are metallic piping.    Often,  NC811 locators will only mark underground utilities within the public right-of-way,   We are then responsible In-house to continue the utility locates up to the building or house.     
Special attention is always given while our projects are underway to limit our liability to any damages to private or public underground utilities.   We utilize several different locating devices that give us the ability to accurately pinpoint utility lines.